Best Day Trading Software for Beginners & Crucial Trading Tools
What Day Trading Software to Use?
We get it. When you start trading, you're unsure whether you'll really make the cut and make actual money in the markets. So you naturally want to spend as little as possible. But again: the market is nothing you can touch or see with your own eyes. Your only means of accessing it and participating in it is your day trading software.
And as you might guess: it's pretty damn hard to represent on your computer screen, in real time what millions of other traders are doing. More than that, it's pretty expensive too. It needs loads of servers and computing power as well as hordes of developers who can translate the data into charts.
So let's be clear: there is free day trading software out there – but it either is "freemium" (meaning you have to pay to get access to the necessary features) or it is not much of a use for you. The most common flaw is that it will show you delayed data and that's fatal for day traders. It's like driving full speed on a highway while being forced to look out the rear window. That's why we're recommending paid day trading software. In most cases it's not at all expensive compared to the hundreds and even thousands of dollars you can make in the markets every day. But not taking a leap of faith and spending some money on the best trading software out there will most likely prevent you from achieving day trading success in the first place.
You can't be a trader without proper day trading software and platform. Why?
Because the market is made up of millions on other traders taking action in front of their computers. And without software that charts, monitors and analyses these millions of individual acts, you wouldn't be able to lift a finger – not to speak of placing a profitable trade. So in day trading you really only are as good as your trading tools – and this, first and foremost, means stock trading software.
And do you want just any trading software? I bet you don't – and this is why we're going to show you what we think of as:
the best day trading platform and stock charting software
our favorite stock analysis software for finding stocks to trade on any given day
the best brokeage account depending on where you live and how much money you want to trade
affordable hardware trading tools such as screens, laptops and trading stations
1. Best Stock Scanner Software
"You are only as good as the stocks that you trade."
This is a famous expression in the trading community. You can be the best trader, have the most proven strategies, but if you are in the wrong stock, you will lose money. There are too many new traders who do not know what a good stock to day trade is nor how to find one, and they waste too many trading days mistakenly believing that the market is impossible to day trade in.
Understandably, one of the common challenges that new traders mention is not knowing what to trade. Thousands of stocks are moving in the market every single day, but finding a setup that is both consistent and a good fit is really hard.
That's why I use the scan software by Trade Ideas: I can just input the parameters of stocks I'm looking for (like price, volume, and the price amount it moves on average) and Trade Ideas will show me a list of stocks adhering to my criteria.
As such, Trade Ideas is the foundation of what where doing in our chatroom each day when we're building a list of stocks to watch for the day. And the best thing is: we've negotiated a discount with Trade Ideas, so you can get their scan software for 15% off. Just click the button below and use "VANCOUVER15" at the checkout.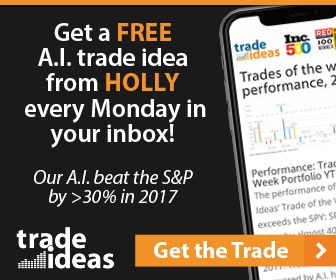 2. Trading Platform: Your Stock Charting, Analysis and Execution Software
Stock analysis and charting software is usually combined into what is called a trading platform. Your trading platform will consist of charts that visualize the price movement of a given stock, they will also include information on the orders that other traders are placing (the so-called "Level 2") and they will give you the buttons and text fields necessary to place your own trades. Finally, a trading platform will enable you to apply lots of indicators to your charts that helps you determine when to place a profitable trade and when to sit tight.
In our view, however, the most important characteristic of a trading platform is to get in and out of trades very fast. For in day trading you might hold your shares for very short times only – and sometimes a second more or less can cost you valuable cents (which multiplied with your share size might translate into dozens or even hundreds of dollars).
So we recommend you get a platform that (1) features hotkeys, so you don't have to type in your price and share size before placing an order – but can just push a predefined button asnd (2) is as closely linked to the market as possible.
DAS Trader
In our community, most of the traders are using DAS Trader. We also recommend it as it is one of the best day trading platform available for retail traders. DAS servers are collocated with the NASDAQ data centers so you cannot be any closer to the market for trading than this.
DAS Trader is not a broker, but you can link your brokerage account to it for fast order execution. Some brokers, such as SureTrader and SpeedTrader, offer you the DAS platform when you open an account. In fact, I like DAS Trader so much that I use it although my broker, Interactive Brokers (see below), has its own platform. However, since it's not fast enough, I use DAS Trader instead. Plus: for beginning traders we offer a very affordable simulator package revolving around DAS Trader that will teach you how to successfully trade the markets for a living.
4. Trading Laptop, PC, and Stations
To conclude this article, we'll leave the realm of day trading software and recommend some hardware trading tools that we think are no less important.
Day trading is a fast business and your profit depends not only on your broker's execution speed, but also:
how much room for charts and information you have on your computer screens
how fast your computer processes all the data sent by your broker and platform – and how fast it communicates your actions
Therefore, we'll recommend our favorite screens and laptop for day trading – along with the accessories you need to set up those things. For a sneak peak, have a look at the trading stations of some of our members here:
I am always being asked for my recommendation for a trading station. There is no easy answer to this because it depends on your budget and many other factors.
My trading PC is a custom-made +$3,000 system that supports 6 monitors. But you do not need to have such a station to start with in order to be successful in trading. However, a fast and reliable working station is important.
I recommend new traders invest a small amount of their funds in an i5 or i7 CPU PC or laptop with at least 8 GB RAM and an SSD hard drive. I recommend this laptop from Acer. It is a very good and affordable ($599 at time of writing) laptop with the following criteria:
Please check out this forum post to learn even more about the requirements for trading computers
Acer Aspire E 15 E5-576G-5762 15.6-Inches

CPU (Intel i5-8250U)

RAM: 8GB DDR4 SDRAM

Hard Drive: 256GB SSD

Display Ports: 1 HDMI + 1 VGA
Of course, there is no upper limit for buying a PC and you can spend thousands and thousands of dollars on your PC, but I encourage new traders to keep the cost of their business down as much as possible at the beginning. You in particular need several screens for your trading laptop or PC because more screens give you more flexibility in watching the market, setting up your platform and scanners, and such.
The highest quality and most affordable screen for trading I have found on the market is the 2017 Newest Acer Business 23.8" Full HD 1920 x 1080 IPS LCD/LED Widescreen Monitor. They are amazingly high quality and very affordable (only $134 as of the time of writing). I have 6 of them for my station. Please note that they are also VESA compatible, so if you will be considering mounting them on your stand one day, you will not have any problem.
I use an Ergotron WorkFit-D Sit-Stand Desk, a standing desk, for my trading hours. It is hard to sit all day long, I hate it! People say sitting is the new smoking, and that we must get rid of it soon. I have no opinion on that, but I found standing is much better for my knees and back and most importantly, it keeps me alert and awake during the day. I love my desk. It is a bit pricy, but I strongly recommend it for anyone who can afford it. This desk encourages healthy movement, and you can adjust it if you want to sit. If you do buy this desk, make sure to buy a standing desk pad (such as this one I use) for it as well. It is a must to have a high quality pad to stand on.
Well, I know perhaps not too many new traders need this accessory, but if you ever decide to upgrade your trading station and want to have a stand for all of your screens, you may need a desk mount. I have a 6 monitor VIVO Hex LCD Monitor Stand and I love it. Since I am using 6 screens, I of course have a stand for 6 screens, but you can also find ones for 2 or 4 screens. It is incredibly cheap (only $103 at the time of writing), but it is of very high quality. I am very happy with this purchase. It is very stable and robust. You will see a picture of my station below. Please note that your screens need to be VESA compatible for this mount. If your screens are not, then you may want to buy a mounting adapter for them. If you douse the screens recommended above, you will need adapters like this here. The adapters are not necessary if your screens are already VESA compatible.
Very Quick Executions
Lowest Commissions in the business
Open to residents of any country
Can connect to DAS Pro
$1 Commissions
(up to 400 shares in size)
Not bound to the PDT Rule
Offers 6:1 Margin
Uses DAS Pro
Discounted Commissions for Bear Bull Traders members
$2.95 Commission
(Up to 1,000 shares)
*Must mention Code: BearBullCMEG2018